Precision fiber optic system to augment structural stress monitoring on World's first 'exposed' fish farm
Ocean Farm 1 operator SalMar and technology partner DNV engage Light Structures to deliver precise data for decision support and long-term planning
Oslo, Norway: Light Structures AS, the world leading supplier of fiber optic condition monitoring systems for maritime applications, and SalMar ASA have entered into an agreement for delivery of a Fiber Bragg Grating technology (FBG)-based structural monitoring system for installation on the unique Ocean Farm 1 aquaculture facility, located in open water near Frohavet on Norway's west coast.
Making its debut as the first ever 'offshore fish farm' in 2017, Ocean Farm 1 is a full-scale pilot facility designed to verify the biological and technological aspects of offshore fish farming. The exposed fish farm concept introduces tangible benefits to the aquaculture workflow, not least with the ability to raise healthier fish due to the continuous flow of water an offshore location enables. Ocean Farm 1 features six huge nets arranged in a circular floating structure, with a total capacity for 1.6 million Salmon.
In order to provide more precise structural stress and fatigue data for lifecycle research conducted by Ocean Farm 1 technology partner DNV, SalMar tasked Light Structures to deliver a customized monitoring system using its SENSFIBTM technology in August 2021. The decision to use this unique alternative to traditional electro-mechanical monitoring was made based on the better accuracy, dependability and adaptability of FBG, as well as DNV's positive work on ship hull stress and fatigue monitoring with Light Structures in the past.
"We have delivered tailored structural stress monitoring solutions using the FBG methodology to over 300 vessels of varying size and type," said Ernad Sehic, Senior International Sales Manager, Light Structures. "The custom project nature of our work with
large ships and specialist vessels demonstrates our ability to adapt SENSFIBTM to unique structures like the Ocean Farm 1. The data will contribute to optimized condition-based maintenance and support further offshore aquaculture developments."
"We're confident that precise structural stress and fatigue measurement by Light Structures will provide a significant contribution to the development of structural modifications and alternative offshore fish farm designs, as well as new processes and workflows that will further strengthen the case for taking aquaculture further from shore," said Bjørn Erik Pedersen, Project Manager SFF, SalMar ASA.
Light Structures' SENSFIBTM fiber optic stress and fatigue monitoring system will be delivered to Ocean Farm 1 at the end of September. Installation – without the need for any hot works – will start soon after and the system is expected to be operational early in October.
Ends
Further information:
Light Structures AS
Goetz Vogelmann, Sales Director
Tel: +47 23 89 71 33
Oceanspace Communications
Saul Trewern, Account Director
Tel: +44 (0)7312 105130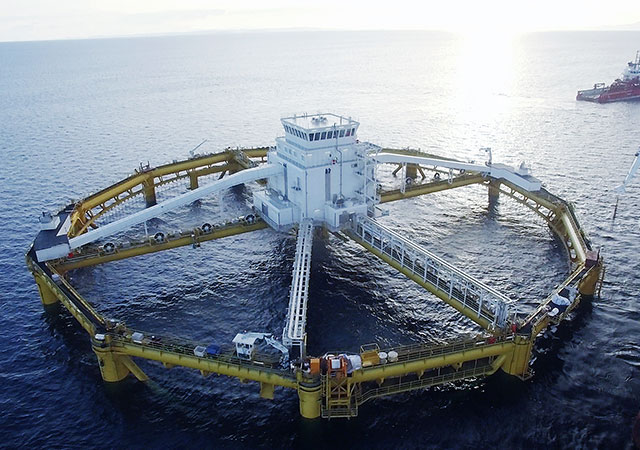 About SalMar
SalMar is one of the world's largest and most efficient producers of farmed salmon. The Group has farming operations in Central Norway, Northern Norway and Iceland, as well as substantial harvesting and secondary processing operations in Norway, at InnovaMar in Frøya and Vikenco in Aukra. SalMar also owns 50% of the shares in Scottish Sea Farms Ltd.
See www.salmar.no (http://www.salmar.no) for more information about SalMar.
About Light Structures AS
Light Structures AS was founded in 2001 as a spin-off from the Norwegian Defence Research Establishment and is now established as the leading provider of turnkey fiber optic stress and fatigue monitoring systems based on Fiber Bragg Grating (FBG) technology. Light Structures leverages its passion for monitoring to deliver custom solutions based on its SENSFIBTM portfolio for the qualification of uncertainties in relation to ship and maritime asset design, safety and operations. More than 300 SENSFIBTM systems have been installed globally for diverse applications, vessels and customers. Light Structures is headquartered in Oslo and has a growing network of international offices. SENSFIBTM solutions are sold through a dedicated network of partners and agents worldwide. www.lightstructures.com
About SENSFIBTM
The patented and intrinsically safe SENSFIBTM range unlocks environmental and financial benefits by giving ship owners and operators the potential to avoid incidents before they happen or to gain a deeper understanding of causes during incident investigation. The range includes diverse solutions that can be customized for specific applications such as Hull Stress Monitoring, FPSO Monitoring, Ice Load Monitoring, Sloshing Monitoring, and the customized HullInfo application. In addition to real-time operational data for decision support on board, SENSFIBTM also provides data for Active Fatigue Management reports, which can contribute to reducing operational cost and extending a vessel's lifetime. Leveraging the reliability and precision of FBG technology, SENSFIBTM provides unique visibility into asset integrity, enabling improved predictive & condition-based monitoring to be integrated in newbuild vessels or retrofits. Data from SENSFIBTM systems is available on dedicated user terminals, through integrated automation and control systems, and as part of IoT networks and cloud-based operational platforms.